Launched BB35 with Jo this morning. It went well, I like teaching with Jo.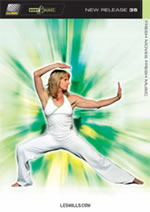 I'm really liking this release. I presented the last half, track 6 onwards. I'm really loving the abs and back track. Back to basics in the abs, but still effective. Good to see the backbend back. It's been 8 releases since we last had it, and it goes with great music too which is awesome.
I love the way we do the pointers laying on our tummy and windmill the arms to change sides. Something new and fresh while still being the same effective move. It's also a way we can do L & R without doing L&R, which is quite cute (ok, I'm easily amused).
I love the way we set up Eagle pose in the balance track, and the new way of stretching the hamstrings while crossing our legs really gives a different deeper feel. As for the half moon………well, it looks nothing like a moon, but a new challenging pose without being impossible – fantastic!