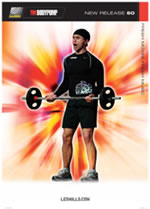 Taught Body Pump 60 in it's entirety for the first time tonight. I have to say, I've been witholding my opinion on this release until I actually did it, because my initial impression of the music only didn't do a lot for me. But this release you DEFINATELY need to do the chorrey to get the feel for the release. It works much better than I thought it would.
This was an easy one to learn. I think I learnt it in record time this time around, learning the entire thing in about 3 hours. Ok, I made a few mistakes, but when I did I still knew where I was in the chorrey and exactly what mistake I'd made so that I was able to resume without anyone noticing.
There were a lot of groans after the shoulder track though. I think I did a few too many overhead presses.
The warmup has a bit of a different feel with it concluding in upright rows and overhead presses.
Squats didn't end up being as hard as it looked on paper. When I was learning the chorrey I thought this one was going to be in the league of Voodoo Child, but it didn't even come close.
Chest was straight forward, like this one more than I thought I would. Can probably up the weights in this one though.
Back track was definately a toughy, and I really felt the 20kg in this. I don't always feel back tracks because I find that the limiting factor in my weights is the fact that I struggle to hold the bar. My hands fatigue long before the rest of my body does!
Triceps was definately a challenge! I've been doing California recently which has the challenging dips, however this tricep track has tougher bar work prior to the dips making this one HARDER than California. I'm not complaining though………I love the pain of dips. Dunno why but there's something sadistic about being an instructor and just having to FORCE yourself through the pain threshold and out the other side 😛
I went straight to the bonus track with Cherry Pie for this one. I've been "flaunting it" for a while in attack, and while I was looking forward to seeing the track in pump, the completely different mix of the song has put me off learning this one straight away. I can see myself putting "singles" in all the wrong spots
Lunges………well, the education materials all say that doing this one on the bench works the front leg more. I reckon that's crap, my rear leg CANED! The stage also has slippery carpet and despite me putting a plate under the bench as recommended, the bench still moved. I might use the square reebok steps in future. We have both at this gym.
Shoulders is awesome and powerful. Love the music, except as mentioned earlier I think I did too many single overhead presses. It was a bit tough 😛
Abs with Shakira is pretty cool.
Cooldown……….hmmmm, I'm undecided about whether I like this song. There's a good bit in the middle of it, but in general I don't really like opera type stuff.