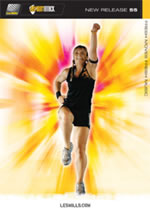 It's the third time now I've shadowed this new release, and I FINALLY got the gallop square. I practised it at home, but when I got on stage I'd just get all messed up………grrr. I haven't had time to actually learn the choreography for this release, since I've been so busy with my other three programs, and since I don't have a permanent class it doesn't matter anyway.
I think I'm loving most of this release. People say it's hard, but I'm not sure because attack in general is getting easier for me now that I'm shadowing and pushing the boundaries of my fitness levels.
The warmup is ok, seems a bit messy and the song is kinda ok. So I LIKE this song, but not as good as BA54.
SOS just ROCKS! Even that dreaded gallop square. Of course it's easy to do as a participant, but shadowing it on stage has been a challenge, let alone teaching it! Fun all the same 😛
The next 2 tracks definately get you into the "zone". OK songs, but you're working that hard you don't really care about the music anyway.
2 point superman is a great core conditioner. I love the move, except I'm slightly starting to hate it now only cuz we also have planks in BC, BP and BB. It's been just a bit TOO much, but probably ok for the average participant.
Running track is an awesome new innovation. Not something you could put in every release, but a great idea for a refreshing change. Love the music for this track too. The only problem that occurs here is I'm usually a leader, and it gets WAAAAY too competitive, meaning I'm stuffed before we're even half way through the track.
Like the moves in the agility track, but song is a bit "meh". I feel kinda neutral about this one.
Like the sun – didn't like this version initially after the song was in pump, but it's grown on me. Not too sure if I like the arm lines in this one………..but then I wonder if the fact that I don't like them is cuz it's just hard?
Awesome peak track! Just awesome. The real thing oh yeah!
Like the abs/conditioning track……..nothing to comment on there, and the cooldown, well…….not my type of song but it's ok.
All in all a fab release