I saved the best for last 😉
well, it was a long time coming, but FINALLY Dan & Rach did BC33, but it was worth waiting for! I've only been here 3 days but it feels like an eternity already. In a good way. 😉 I got a double whammy though, because not only did we (we meaning myself, Linda, Donna, Cheryl and a bunch of other scottish and british people not from the forum including Emily and Zoe) do combat at 5.10pm, but we did 33 all over AGAIN with D&R at 6.30pm in Studio 2!!!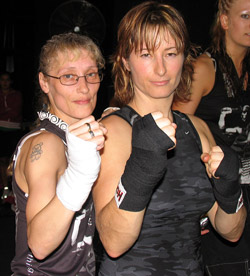 It was just the 2 of them presenting so I can only presume that they're doing the video on their own? I'm loving this release, the music, the moves. It seems more challenging technically, and I mentioned that briefly to Rach and she talked to me about progression and periodisation etc. They really put a lot of thought into choreographing each release.
Just a warning guys, track 6 isn't much of a recovery track! My heart rate was at 161 after this track……and as a comparison the highest I've ever got my heart rate is 175. But it's awesome, really awesome. 😀
The one track that doesn't really gel with me so far is the Muay Thai. I'll give it time, maybe it'll find a place with me, but after doing it twice it hasn't happened yet. I think they've done the choreography well though, and it makes sense when you take into consideration what Rach was talking to me about earlier.
It was good to see D&R teaching together again. I love their banter that they come up with, that you don't tend to see as much when they're presenting on stage with others.