It's a dutch tradition to celebrate Christmas Eve more rather than Christmas Day, so for Christmas Eve we had dinner at Alex's place. Alex's brother and family, sister and his dad all came over for fondu. First time ever having fondu for me. I had only heard of having cheesy or chocolate fondu's, so having one with meat and salads was new to me.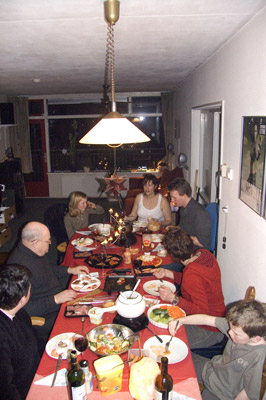 We went shopping first for the food and I wanted to make an avocado dip (guacomole) but there were no ripe avocados. We were starting to get too pressed for time to go to another supermarket but then Alex remembered that he needed to get a tablecloth, so off to another supermarket. We couldn't find a park so I got out and quickly checked the supermarket…..no avocados or tablecloths. In the meantime Alex had found a park and went into another store to get the tablecloths. So no time then to stop at another supermarket, so we decided to forget about the avocados.
When we got home I started preparing stuff and we suddenly remembered we'd forgotten the most vital ingredient! The oil for cooking in the fondu!!! So this time Alex went off on his bike since it'd be quicker and I asked him to see if there were any avocados while he was there. After a third trip and a third supermarket we got everything we needed.
Ben and Ineke and the kids arrived and so I continued preparing food and Alex picked up his dad on the way.
After all that, we had a great dinner and thankfully everyone seemed to love my guacomole!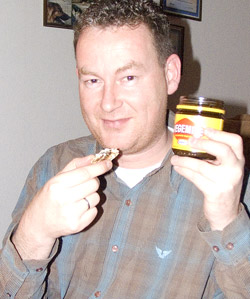 After dinner (which I keep calling "tea" and confusing everyone) we had a relaxing evening mucking around with the kids, I showed Ben some photos of mine, we played with dog with the laser pointer and I introduced the "family" to some aussie vegemite. Ben and Ineke didn't seem to mind the vegemite crackers 😉
It was a special evening to spend with Alex's family and I'm so glad to be able to have this opportunity. It's good to have this time before Alex get tied down with our own kids and family.