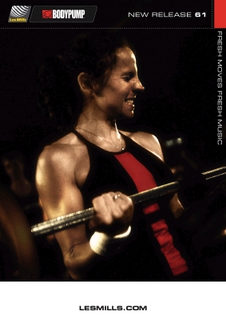 Taught this in it's entirety for the first time tonight. I think it's quite a good alround release although there's a couple of tracks that I think suck, but that's personal music taste really. I'm sure others will like the songs Sexyback and Deja Vu, but I just can't get into them.
After lots of listening and a couple of practises I've nailed the warmup. So much so that the strange timing almost feels natural now. I do love this track, great light hearted song.
Squat track is AWESOME. Different feel, lots of singles, powerful music. Definately one of my favs although it might get boring quickly? I dunno.
Something different again for the chest track, 4/4's just when you expect singles to come along. Fantastic! Love the song despite the fact that I'm getting over pink. This works well.
Nothing new in the back track but lots of rows so it's a tough workout.
Kickbacks are back for the tricep track with Sexyback (try saying that out loud 😆 ). You already know I dislike the song, but the chorrey is great for the track. We finish with the bar at the end……hmmm
Odd song for biceps, kinda rocky. Simple chorrey and you get a break early on but then it smashes you after the break. I'll have to wait until I've done this one again, but I think it might be an easy one. Might be time to put the weight up?
Love the lunges!!!! In love with the song and the bench is also back! Backward stepping lunges………..nice….
Shoulder track starts with rear delt raises. First shoulder track I've seen I think that doesn't start with pushups, but we get them at the end instead 😉 Mac raise starts off nice and slow so they can get the hang of it.
Abs………ok I hate the song but chorrey again is good. Planks with the leg lifts……..OUUUUUCH
Cooldown……..Chasing Cars……….what more can I say? Beautiful 😉