The attack filming followed shortly after jam, but because I participated I unfortunately didn't get to take as many pictures as Jam.
However I participated in it and that was even better!!! This release really rocks! I dunno if it's just the energy and the enthusiasm of a filming, but it doesn't seem to matter what the music is it just goes off, lol. Man we sweated, it was hot in there. The fact that I got to do BA58 for the second time means I remember quite a bit more than I did the first time. Loving some of the music 😉
The pushups were hard, but it's hard for me to tell whether they're harder than 57 or not, seeing as I've only done 57 once. I could have died in the plyos, I was jealous of Vanessa in the corner with the "options" team, lol. Lisa has come up again with a slight new innovation for the agility track. Plus as mentioned before there's the new move which I can't remember if it's in the Interval track or the Peak? I dunno, but all I can say is if you remember things like that at that point of the class you can't possibly be working hard enough!
The great news is that our beautiful Vanessa Labort goes on the team of the "options" crew, which they've now got as a new split screen format on our DVD's. Poor Vanessa only had about 3 hours warning for this, and then Lisa surprised her and invited her up in the middle of the cooldown! Congrats to Vanessa! It was great to see her up there.
I haven't seen my BA57 DVD yet, but apparently this split screen format with the options in the corner has been introduced with this release. After the class people took quite a few photos of the team, and then Lisa invited all instructors on stage to take a big attack photo with all the visiting instructors!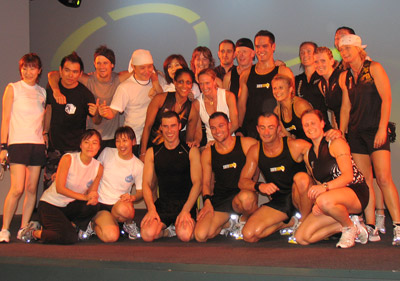 This photo includes myself, Wayne, Donna, Cheryl…..all members of groupfitness.org 😉 I'm really disappointed that Linda didn't get in the photo. I think she deserved to be in the photo even if she isn't an instructor. I don't think Lisa would have intentionally meant to exclude non-instructors when she invited us on stage, and in my excitement I didn't quite notice that Linda didn't come up…..mind you, Linda is a die hard combatter that doesn't like attack, right?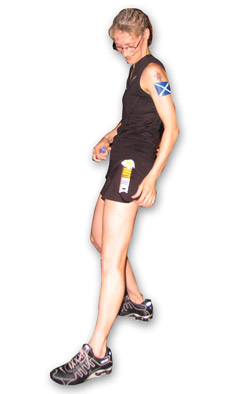 yeah right 😆
ssssssh, don't tell her I showed you this!