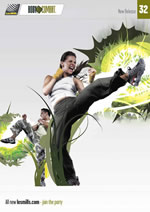 I've surprised myself quite a lot and discovered that I'm actually liking release 32 a bit more than I thought I would! I taught it in my class for the first time tonight, but not the entire class. I got Brandon (a fairly new instructor that hasn't taught on his own yet) to help me out, since I've been so under the pump lately.
He did quite an amazing job. Certainly did a great job of track 4, which isn't an easy track to teach when you're new. I SMS'ed him this afternoon and said "wear black", cuz while I was getting my hair cut I decided on a spontaneous Matrix style theme. I flattened my hair, got the black sunnies and wore a long trenchcoat jacket (not for long though, lol) kinda in Trinity style theme. Forgot to get piccies so I'll have to put Brandon up to it again and we'll get photos next time 😉
The class went ok though. I didn't know my chorrey as well as I'd have liked. I was supposed to have an hour prior to my class to go over my chorrey again, but cuz I had a training session with my friend that ran a bit longer, I ended up with only about 15 mins to go over chorrey…….not enough 🙁
I seriously felt my butt in the conditioning track……..owwww. In the inital training assessment I had with a friend of mine who's using me for her Cert 4 assignment, she decided to find out my 1RM on the leg press and chest press, so when I got to the conditioning track in combat my butt was seriously shaking with fatigue!!! arrrrrgggggh.
It was freaky though a new member had a free pass to try out the gym and would you believe she's done my class before at another gym years ago. She recognised me and after she said I did remember her………and would you believe it I actually remembered her name!!! Can't believe I managed to recall that……my memory surprises me sometimes!
Love this warmup, especially the upper body. The lower body part almost sounds too much like the last one, but it's ok.
Wasn't sure about this song initially, but it works. It's grown on me and I quite like the track. Love the new switch knee 😉
Think this is my fav song musically, don't like the double bobs much somehow? But the rest of the chorrey is great. 
Intense track. I've overheard this song on the radio a bit too much, but again it's grown on me anyhow. Definately great progression in preparation for the next release. Maybe difficult for newbies to join in at this point?
Initially cheesy song, but this has also grown on me. I had a lot of fun teaching this track tonight, in the notes it says "Level 1 – excitement" and I was like "what the?" So I made my own fun out of the different levels. Level 1 = happy, Level 2 = serious, Level 3 = ……….kinda forgot at this point, so we just started working hard, lol.
hmmm, ok I'm over pink, they're trashing this song on the radio especially since her series of concerts here. But otherwise it's an ok track.
Definately another grow on me track! Initially I wasn't wrapped, but now I'm loving it. From the smile on Nat's face I think she loved it too………especially the speed up bit 😉
Another radio song, and love the build up and fun to finish this one off with
ok, just a suggestion guys, while this release is out don't try and find out your 1RM on the leg press before doing combat………just don't…. 😯
The katas in this release are not my fav katas, but this cooldown rocks anyway!