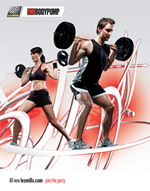 As mentioned in my blog the theme for our BODYPUMP62 launch was Tiaras/feathers/leather/lace with an optional gold coin donation to the Cancer Council. I haven't yet checked how much was donated from the class, but it was great to see quite a few members put something in. Some didn't actually bring purses in with them and apologised, but I know the thought was there.
I went all out myself for this theme and some of the members all got into it and dressed up or wore tiaras. It was great. Me? What did I wear? ahem, well I wore the shortest shorts I've ever worn ever 😳 Actually it was a skort, but anyway, I wish there wasn't a mirror behind me in this class! lol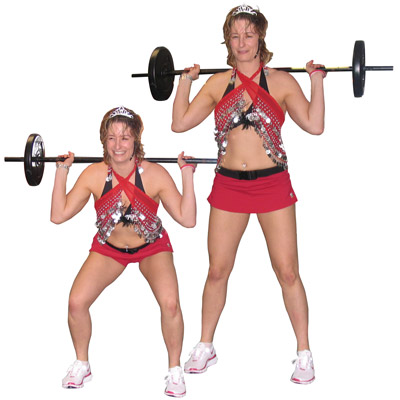 I took tracks 1-5. The warmup is a fraction tricky with slightly odd timing, but nothing like the last release so it was all cool. The music tastes a little bit like cheap candy to me, but it's still ok.
Love the squat track. Everyone knows the song, great sing along factor……"You don't want anyyyyyyone, don't tell me………..this is BODYPUMP!"
Chest – the song is great, groovy track. Think I can go up in weight on this one. But, it was damn hard learning it after having the song in combat. I don't mind it when they reuse tracks, but it's DAMN HARD when the put all the choruses in different places. I wasn't sure when we just did singles or when the single bottom pulses followed the singles. Listened to it over and over to get it, and thankfully nailed it in the launch.
Back track, how many shoulder rolls are there? Had to listen to this one aswell a few times more than I normally would have to for a back track just to figure out the shoulder rolls. Love this one though, love when you do the rows. Need the music pumping louder than my ipod will allow though. Need to feel the beat vibrate through your body 😉
Triceps are still a killer. My triceps were still aching and this track is relentless! After the pullovers, then the overhead extensions……….but I heard some groans when we dropped for the tricep pushups. I love that little surprise at the end 😀
Ivica took over the class for the second half of the class. Biceps is an ok track, it's kinda growing on me although it does somehow feel out of place.
Lunges, insane, just insane! If you didn't lift enough weight in squats it doesn't matter. These will CANE you. Backward stepping lunges off the bench…….OH THE BURN!
The track for shoulders doesn't really motivate me, but it's nice to have the new (old?) move in this track. Although it's been in pump before I haven't actually taught it before.
Love the track for abs. Most of this track was a bit of a blur for me though, since I was actually more busy trying not to stab myself with the coins from my clothing, and making sure my skort didn't end up TOO short 😳
Cooldown is a nice enough track. At least it's not a horrible opera song, so it's just-another-pump-cooldown. 😉