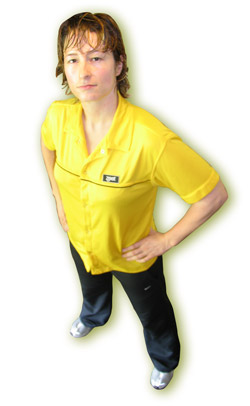 Finally, everything has fallen into place! For those that have been following my blog will know that I've been working as a Club Trainer (red shirt) at Zest for a few months now, and part of the process is that once you're "ready" you switch over to running your own personal business as a Personal Trainer.
This has just happened for me……….TODAY!
At Zest we're officially called BODYTRAINERS (yellow shirt) which is under the Les Mills personal training system. Essentially we manage our own business and we're no longer employees of Zest (although I'll still have my group fitness classes). This means we pay rent to be able to operate from within Zest. From now on I'll be relying even more heavily on an accountant to keep me on track.
I didn't think I'd feel much different, since essentially I'm doing the same job (minus the gym shifts), but I DO feel different. Maybe it's just because of all the comments I got saying "nice shirt"…..lol. One girl that trains with me was doing a pump class and as I walked past the room she half dropped her bar and her mouth dropped open as she pointed at my shirt. I couldn't help but laugh, although she should have been watching the instructor…….haha.
So after the first day……..I feel quite good 😉