The BBQ everyone has been waiting for!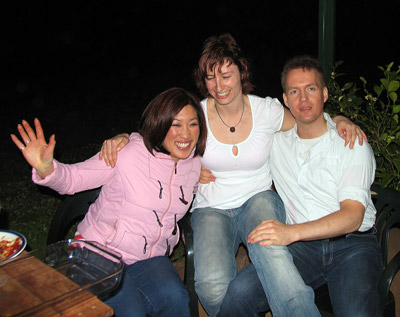 Lots of food, lots and lots of food………..particularly sausages. Plenty of alcohol too apparently. Alex introduced me too some Apple stuff which I have to say gets me impressively drunk after just one glass. Nice work. I WILL be buying more of that stuff in future.
Such a big night, dancing and dancing. Poor Natty ended up solo for quite a bit of it……although "poor" is probably not the best way of describing it. She did quite well taking centre stage and showing off her gyrating hips. Very impressive. I made my feeble attempts at trying to jam to 34 and 37. Someone put on 36 briefly, but it seems I can't remember how that release goes. But there was no way the night could have gone by without THROB! Even Georgia was impressed at my memory. Jonno demonstrated an awesome display of just WHY HE SHOULD BECOME A JAM INSTRUCTOR! And yes, Jonno I remember agreeing to filling in your combat class in September 😆
I think we outed Alexander and Phil as pyromaniacs. Phil blasted the BBQ and Alex enjoyed setting alight our wood heap that needed burning up………old sofa and all.