Well, usually either Jo or Brandon shadow me during combat on Wednesday nights, however I got a message from Jo this afternoon that they wouldn't be there. Sooooo, I turned to Alex and said, "well I guess you can come on stage and shadow me then"……his reaction was like "what?"
Combat for Alexander is the highlight of his entire trip. I can confirm that Alex is truly a hardcore combatter and he certainly doesn't let the program down! I did the same mix as last week except that by request I did "In the Air Tonight" as the cooldown for Alex.
It was an AWESOME class. I was buzzing and Alex seemed to enjoy himself too. In track 8 at the spur of the moment I also dragged Natty up on stage. Despite her protests I know she loved it. I'll make her a combat instructor yet! 😀
Just by coincedence Alex and I happen to have the same combat top from the NZ clothing store. So we both wore those tops and shared wraps so that we both had 1 pink wrap and 1 black wrap. The pink looked quite cute on him…..hahahaha.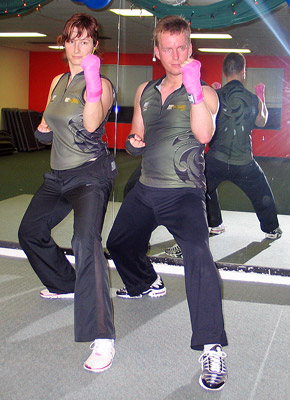 Wednesday night combat as a new class initially took a few months to take off………but now it's ROCKING. For an 8pm time slot it's awesome and for the first time we had another MALE in the class apart from Brandon or Alex…….woohoo! GO THE BOYS! There should be more in combat.
oh and just as a refresher……..combat is NON-CONTACT! 😆