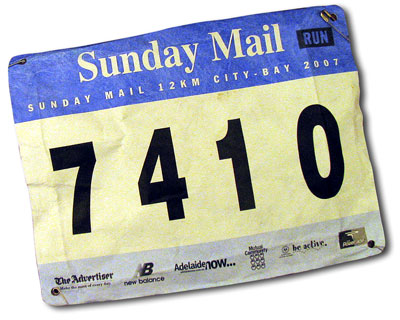 I made it in approximately 1 hr and 10 mins, although I haven't seen the official results times yet. I'm pretty happy with that being my first time and not only was I taking it a little easy, but also I haven't done a great amount of training for it. I can thank pump, combat and attack for my fitness, and balance for helping me be strong and injury free 😉
The first kilometre was partially uphill and was possibly the hardest part (apart from the end when you're tired). It took me by surprise the number of people who were already walking after 500m. 12km is a mean distance if you have to walk after 500m!!!
There were signs each kilometre and I have to say they were kind of motivating. I didn't notice the first one, but when the second kilometre went by I thought "oh gawd, 10km to go". Staggered along the run were various forms of entertainment, bands etc, which had various levels of quality. Some were good, some were really bad………but the bad ones took my mind off the pain. The cutest was the 3 kids (or was it 4?) playing in a band on the back of a ute or truck or something.
At the 6km point I wasn't too sure if I was going to make the whole way without walking. Energy wise I was fine and I felt I could have pushed harder, but pain I was struggling. My hip flexors and the insides of my knees were agony.
A few more kilometres down, some more entertainment and then there was only 2km to go. Still in pain, but I knew now I'd make it. After the previous 10km there was no way I could give up now. The finish became taunting, we could kinda see the bay and that it wasn't that much further to go.
But then we took a turnoff, I could have groaned. The finish seemed to be so close and then we were heading down another road. Finally we turned again and we were heading back to the bay.
Right at the end there was a turn and 100m further was the finish line. At this point I felt a major surge of energy. Seeing the finish line just suddenly gave me amazing amounts of motivation, and the girls I was running with agreed. We made it through, but I didn't think to check my watch immediately.
They hurried us straight through, gave us a newspaper a bag, then out into all the tents where thousands of people were milling around.
I feel satisfied for having completed my first city to bay run, and I'm proud of the girls who were training with me and they also completed it well. I think it's a fantastic result for a first effort!