The trip to the Christmas markets in Germany only took about an hour and a half, which by European standards is a long drive……..but I think it's cool that you can be in another country in such a short time! It only took 30 mins driving to get to the border, which was relatively non-descript. I asked Alex to let me know when the border was coming up so I could take a photo, but when we got there it was just a sign with a German flag on it and Alex said "oh, I think we're in Germany now" lol. We weren't too sure, but then we started seeing signs written in German so we were in Germany.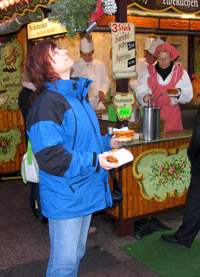 The first stop as we walked past the Christmas stalls was to try out some Reibekuchen. Have to admit it was pretty yummy! Even with the apple sauce and I'm not big on sauces. The people serving us were dressed in……..well……….funny looking German clothes. The Reibekuchen, directly translated, apparently means "rub cakes". They're made of mainly potato and their "rubbed" to create a mush and flattened into cakes. Whatever, they're delicious and they remind me a bit of vegetable fritters.
The atmosphere was great and all the little Christmassy and non-Christmassy knicknacks that were being sold. I thought it amusing that Alex overheard a German guy complaining (in German) about all the Dutch and English who don't bother to learn the language. lol, that's me! Well, it's not that I didn't bother. I did 4 years of German in highschool, but I can't remember hardly a word of it and I'd never feel confident enough trying to use it. Their English is way better than my German is!
I had to take a piccie of these guys doing what I guess is called "busking". At least, I think they might be although I dunno if busking exists in Europe like it does in Australia. But anyway, they were playing music and they were playing it on weird looking instruments.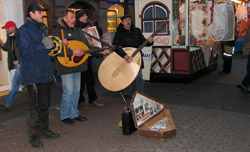 The markets were spread out over different areas with 6 in total, and as we came to the third or fourth market I found and purchased my first gift to take home to my friends. I saw it and immediately knew it was so appropriate 😉 Then I tried some Champignon's, German style…….yum! You can see a piccie of me stuffing my face in the gallery.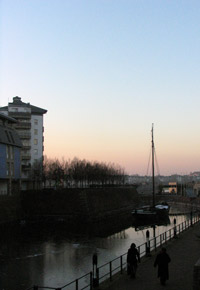 While we were looking for the last market we took a wrong turn (I won't comment at all on Alex's map navigating skills, he'll hurt me 😆 ) but I'm glad we did cuz I got a chance to take this serene postcard looking picture. Been trying to play with the different settings on my camera, and most of them come out like crap, but I like this one.
On the way back we stopped off at one of the stores to use the toilets for free, since it seems you have to PAY to go to the toilet in Germany! We returned to this store so that I could buy a nice jacket that I'd eyed off last time we were there (for the toilet, haha). I felt a bit frumpy always being rugged up with 4 layers of clothing (no kidding!) and I wanted to feel a little bit sexier and it was on special for 90 euros.
On the way home I was sooo tired I actually fell asleep in the car, despite my incredible fear of Alex's driving on European roads, lol. I'm not used to the different driving style yet and I'm absolutely terrified I'm gonna die. Despite that, I couldn't force my eyes open any longer and slept through the scary drive home. 😉