I don't know if you can call this a frost, but by Australian standards it definitely puts a "frost" to shame.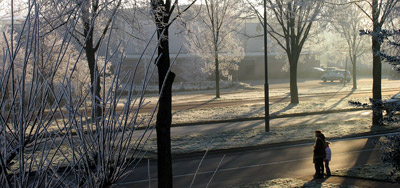 When there's dew overnight it freezes on top of the previous dew and it ends up with heavy layer of ice everywhere. You can't quite see how white it is from the pic, it doesn't really do it justice. Almost looks like snow, except it didn't fall out the sky. I think it looks beautiful (from the warm comfyness of Alex's loungeroom)!
Later as it warmed up a little (I think from about -2C to approximately 1C), the ice began to fall off the tree's and it looked like snow falling……creating a thin layer of snow around the base of the trees (which Alex delighted in throwing a small snowball at me later).